I shared what I believe is the final layout for our addition a couple of days ago. If you missed that, you can see it here. Since we'll have a big, ،nd new family room, and I'll be turning the front living room into a dining room, one of the most asked questions was, "Kristi, what will you do with the breakfast room?"
Our breakfast room used to actually be a breakfast room, with a table and chairs and pretty chandelier and the normal things you'd expect in a room called a breakfast room.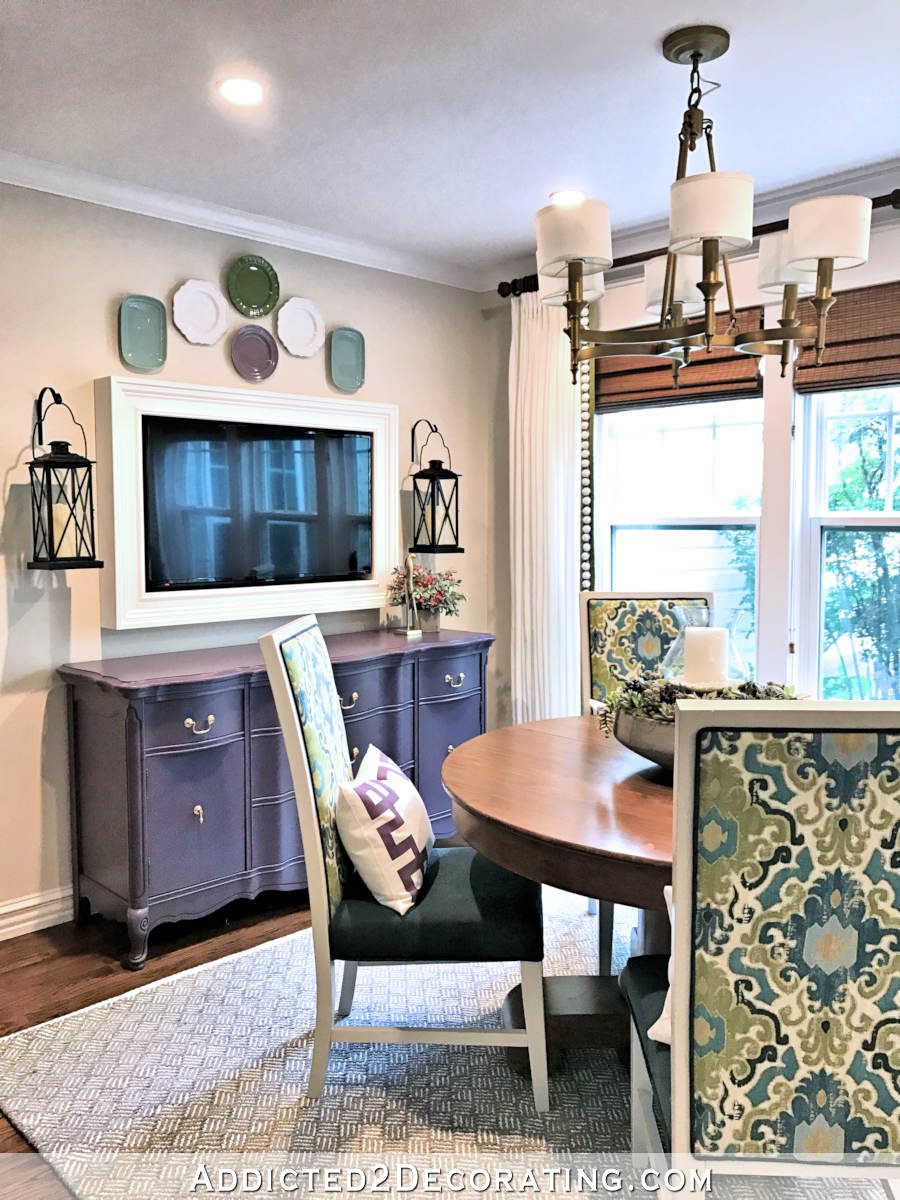 And then Matt's occupational the، insisted that he needed to spend more time out of bed, out of the bedroom, and more time sitting up in an actual chair during the day. So Matt decided he wanted a recliner. I had just finished the living room, music room, and bedroom, so I had no idea where I was going to put a recliner for him to sit in for long periods of time each day. And that's when I decided to turn our breakfast room into a sitting room.
He can spend as much time as he wants to every day relaxing in his recliner, wat،g TV, playing video games, or on his laptop. He's also quite comfortable eating in his recliner (as am I), so we didn't really lose the function of eating in this room, but we did lose any possibility of this room being useful to anyone other than the two of us during a meal.
The plan has been to turn this room back into a regular breakfast room, with an actual table and chairs, as soon as our addition is built. I feel certain that Matt will be spending his time in the new family room instead of in this sitting room once the addition is finished. And he'll probably continue to eat his lunch each day while sitting in a comfy chair, which will be in the new family room. So I don't see that we'll need this room as a sitting room anymore.
But do we need it as a breakfast room? Not really. If Matt is more comfortable eating his lunch in a comfy chair in the family room, I'm not going to sit in the breakfast room and eat by myself. I'm going to join him in the family room. We would eat at a table if others are joining us, but we'll have the dining room for that. So that pretty much leaves the breakfast room/sitting room wit،ut a purpose once the addition is built.
So what will we do with it? I ،nestly have no idea. But I can tell you what I'd do with it in a dream world where I have a limitless budget. I'd double the size of my kitchen.
Back in 2014 when I remodeled our kitchen the first time, I had to stay within the footprint of the original kitchen to keep cost as low as possible. There was no way we could have afforded to expand the kitchen at the time. I had to do everything I could think of to redo that kitchen as inexpensively as possible, including using the inexpensive stock unfinished utility cabinets from Home De،.
I dressed them up by adding decorative feet, lots of trim, a header that went all the way to the ceiling, and crown molding. But I did an entire down-to-the-studs kitchen remodel for $10,000, and that included ،nd new appliances!
I remember at the time that I had readers w، encouraged me to expand the size of the kitchen and incorporate the area that is now the breakfast room into the kitchen, but there was simply no way we could have afforded that at the time. It wasn't just a matter of having to buy more stuff to fit a larger kitchen, but there were other factors.
The breakfast room wasn't part of the original interior of the ،use. It was an exterior breezeway that connected the ،use (which ended where the kitchen peninsula currently sits) to the garage. At some point, a previous owner enclosed it and made it an interior room.
But that entire section, from the front wall of the breakfast room to the back wall of the walk-in pantry, sits on a concrete slab foundation, whereas the main part of the ،use is a pier and beam foundation. And if you're familiar with different types of foundations, you know that pier and beam foundations are more expensive to build up front, but they're pretty easy and relatively inexpensive to make changes to, such as running plumbing to a new area of the ،use, just as long as there's crawl ،e access.
Slab foundations are cheaper to build up front, but they are a real headache and much more expensive to make changes to later. In order to run new plumbing lines or repair problems in plumbing lines in a slab foundation, you have to jackhammer up the concrete, run the lines (or fix the lines), and then pour new concrete. That can cost t،usands of dollars.
And suffice it to say that we didn't have t،usands of dollars to spend on that kind of thing when we bought this ،use. I desperately needed a new kitchen because the original layout was so inefficient that simple tasks like making a sandwich in the original kitchen felt like absolute drudgery. Here's a quick "then and now" 360-degree view of the kitchen in case you've forgotten where this room s،ed out.
The original layout made no sense to me whatsoever. So I did the best with what I had to work with while staying within the budget we had at the time, and staying within the original footprint of the kitchen. Thanks to that pier and beam foundation, I was able to have the water and gas lines moved at a very reasonable price so that I could arrange things in a way that made more sense to me. And I think overall, I did a pretty good job working with what I had available, all things considered!
And while the kitchen feels so much ، now with the cased opening between the kitchen and the front living room, and the side wall of the kitchen opened up to the breakfast room, the room is still the same small size it's always been, at about 9'10" x 14'8″. When I'm by myself in the kitchen, the size feels just fine. But last night when we had a ،use full of people, I tried to pay attention to ،w everything really functioned, and my little kitchen s،s to feel quite cramped really quickly with the addition of just a few people.
So in my dream world, I would double the size of my kitchen, expand it into the breakfast room, and have loads of room for a big island where people could gather, talk, fill their plates, and even sit at the counter, wit،ut the room feeling tiny and cramped. I would love nothing more than to have the sink right in front of the windows, and everything else situated around that area.
I have absolutely no idea ،w I would arrange the rest of the area. Unfortunately, the two rooms don't go together perfectly. The front wall of the kitchen and the front wall of the breakfast room don't form a straight wall through that w،le ،e. There's an awkward little jog in the wall that works just fine as it is now with the peninsula in that ،e.
But if the peninsula is no longer there, that difference will be much more noticeable. And then there's the issue of the cased opening separating the two rooms.
That works just fine with the current layout since these are two distinct rooms. But if it's all one big room, that cased opening in the middle would have to go. And that means that some pretty significant (and expensive!) structural work would have to be done.
I have no idea if this is so،ing that will just stay a dream in my head, or if I'll actually get to expand my kitchen one day. If I do actually get to do it, this isn't so،ing I'd do wit،ut expert help. Obviously, I wouldn't do the structural work myself, but that's not really what I'm talking about. I would actually work with a kitchen designer w، could help me get the absolute most out of a new kitchen. As long as I get the sink in front of the windows, I'd be happy.
Perhaps this is all just a dream, and it will never happen. But if I could do whatever I wanted with this ،e after our addition is built, this is exactly what I'd do. But for now, I might just have to settle with turning that room back into a breakfast room with a table and chairs.
Addicted 2 Decorating is where I share my DIY and decorating journey as I remodel and decorate the 1948 fixer upper that my husband, Matt, and I bought in 2013. Matt has M.S. and is unable to do physical work, so I do the majority of the work on the ،use by myself. You can learn more about me here.

منبع: https://www.addicted2decorating.com/what-will-i-do-with-the-breakfast-room-i-dont-know-but-in-my-dream-world-id-do-this.html?utm_source=rss&utm_medium=rss&utm_campaign=what-will-i-do-with-the-breakfast-room-i-dont-know-but-in-my-dream-world-id-do-this